by Diane Lafferty
Pulaski Academy has a responsibility to its students to heighten their sense of moral obligation, their sensitivity to social problems, and to build in them a sense of personal fulfillment through their commitment and empathy for others. At all grade levels, students learn about making choices and sacrifices, and they apply principles learned in the classroom to concrete circumstance through service opportunities.
In Early Childhood, students express thanks and support to the local community through grade level projects. Our youngest students learn about community helpers in conjunction with their social studies curriculum and create gift bags that they distribute to firefighters. As they move through the Early Childhood School, classes collect needed materials for donation to the Ronald McDonald House and the Humane Society of Pulaski County.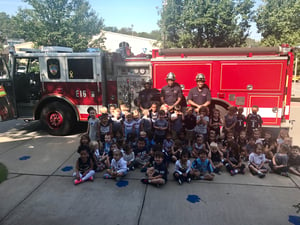 As young Bruins are promoted to the Lower School, they begin to garner a global perspective. Recycling projects, reading to younger children at the Access School, singing at senior living facilities, and a "socktober" sock collection drive reinforce their awareness of diversity within our local community. In the fourth grade, a representative from Tacos4Life speaks to the students about their mission to feed hungry children and families around the world. Fourth through eighth graders then spend time during the school year assembling food packs for Tacos4Life to distribute in Africa! In addition to international outreach, the sixth grade visits St. Jude's Children's Hospital each spring on their class trip to Memphis. A portion of their visit involves delivering toys to current patients.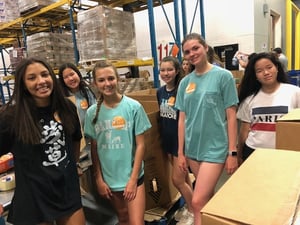 With their eyes and hearts open to the challenges affecting many locally and internationally, Upper School students select nonprofit organizations to serve for a minimum of 15 hours each school year. While some opt to spend those hours with multiple organizations, others commit their time to a single cause. Popular organizations among our students include the Dorcas House, the Centers for Youth and Family, Angels of Hope, Arkansas Heart Association Sweethearts, and the Arkansas Children's Hospital Star ACHiever program. Senior Teague Cooley contributed 112 hours last year to the extraordinary people and purpose at Camp Aldersgate.
My experience with Camp Aldersgate was amazing both sessions I volunteered. My freshman year, I volunteered during the diabetes week to get community service hours for my whole year not knowing what an amazing experience it would be. I learned how troubled these kids are and how camp filled them with joy and allowed them to be themselves. I enjoyed it to the point where I wanted to volunteer the next year during a more meaningful week for me, cardiac week. Having a heart condition myself, I thought it was a great idea to be able to bond with the kids and see how we relate. To my surprise, there was much more than that. I was caught completely off guard during the first day to see how severe some of these kids conditions were. Not only was I able to relate and talk to these kids, it was a huge eye opener for me. It made me realize how fortunate I really am that I get to do the things I love. Some of the kids were in wheelchairs or needed help walking, only because of how severe their conditions were. I'm able to play baseball, go to camp, and do the things I love to a certain extent, which these kids could only dream about doing. The memories at Camp Aldersgate of helping kids with similar conditions as me and learning how fortunate and lucky I am are experiences that I will never forget.
Aside from the structured community service program, we aim to instill a sense of school and global engagement through routine interactions. From meeting and greeting our PA community in carpool to raising awareness of global issues through Amnesty International and Model United Nations, moving students outside of their comfort zone to understand and connect with others is key to instilling a lifelong commitment to serve others. Alumni Bailey Moll, class of 2009, effectively sums up the constitution of a PA graduate who is equipped to positively impact society."As an educational institution, Pulaski Academy prepares students for their academic future by arming them with critical thinking skills. This alone, however, is not what makes our school the best in the state. It is the diligent efforts to instill in our students the virtue of active, civic involvement through community service. Our society is strongest when it is led by servant leaders - the very type of person Pulaski Academy strives to create in its graduates."