Before the seats are filled for opening night at the Connor Performing Arts Center, our theatre and stagecraft students spend weeks collaborating, rehearsing, and setting the stage with the guidance of Theatre teacher, Sheridan Posey, and Technical Theatre teacher, Drew Posey.
While this semester's production of Into the Woods was originally planned to open on April 17th, our creative troupe had to regrettably cancel the show to safely continue our at-home distance learning. Regardless, we would like to share this interview for our readers take a peek behind the curtain to learn how Mr. and Mrs. Posey and our students create theatre magic, memories, and skills that go beyond the semester.
---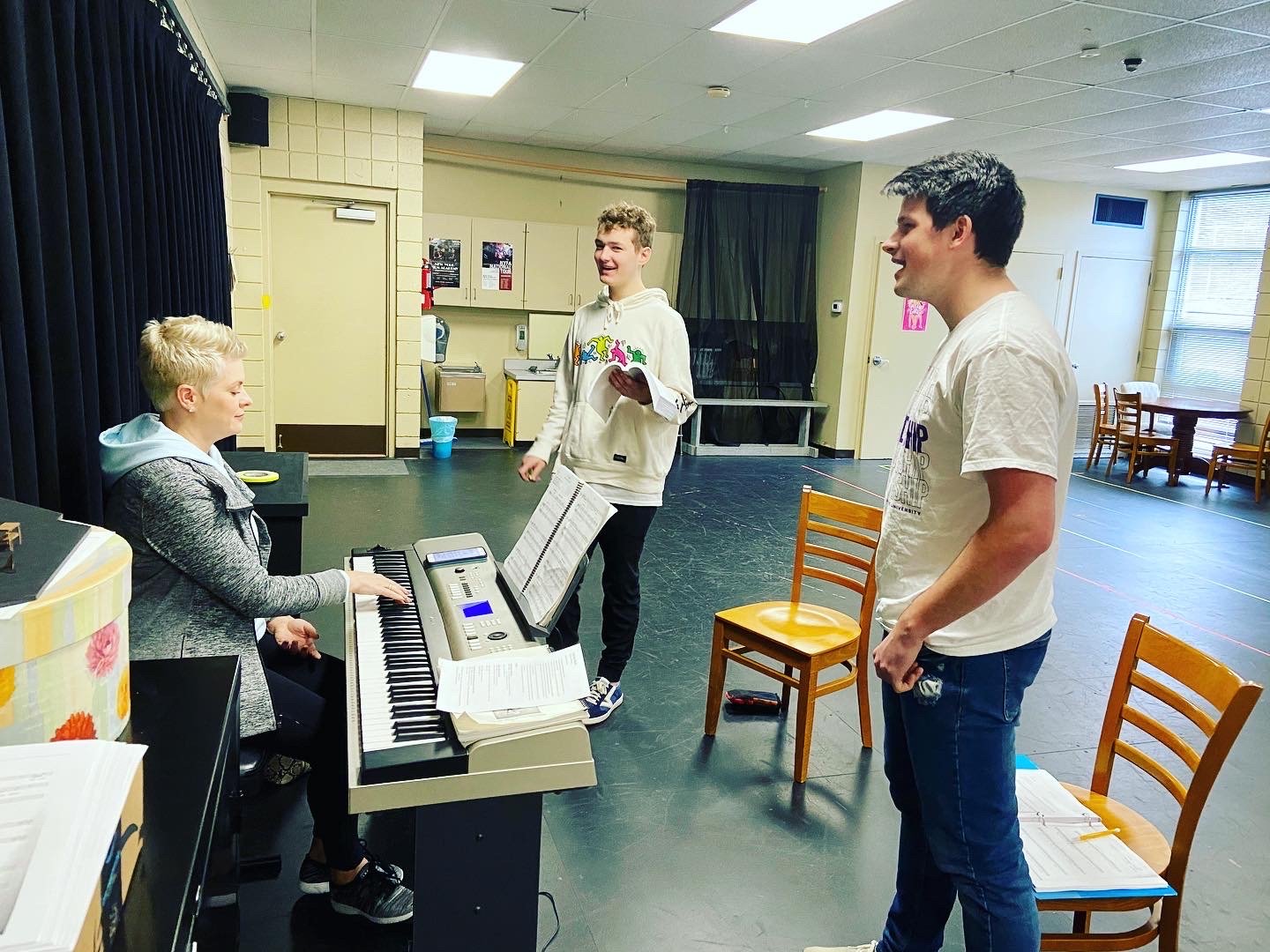 Can you tell me a little about how long you've been at PA as an instructor and what the experience has been like for you?
Mrs. Posey: I am in my fifth year teaching theatre at PA. I absolutely love teaching and working with our students at PA. Theatre is a collaborative art form, which requires teamwork and dedication from all involved. Our cast and crew members love the process and watching them come together to make the play a success is extremely rewarding. I also have the honor of teaching students 6-12th grade, so watching their growth throughout the years is one of my favorite things about teaching theatre. Every year they have a new layer of experience and emotional maturity to bring to their acting and directing roles.

Mr. Posey: This is my second year teaching Technical Theatre classes. I have been very impressed with the students' interest in theatre and have a great time seeing them grow as artists and craftsmen. I have been very proud of the productions my students have built, and having them has allowed me to create bigger and more complicated designs for the stage.


What is the timeline for a play production?
Mrs. Posey: The rehearsal timeline depends on the length and style of the show. For our fall play, which is a straight play (no music), we rehearse 4-5 weeks. For our spring musical, we rehearse 6-7 weeks, as we need additional rehearsal time for music and choreography rehearsal. But, the creation of a play begins long before the rehearsal process. Drew and I discuss design elements months in advance. Once I have the set design, I work on pre-blocking, choreography, and the creation of the rehearsal schedule to determine what areas of the show need the most time.
Mr. Posey: As a designer, I need time to design, and create technical drawings and set models. The design must be completed before rehearsals begin and the set must be fully installed at least one week before opening. My stagecraft classes start building the set several weeks before rehearsals begin.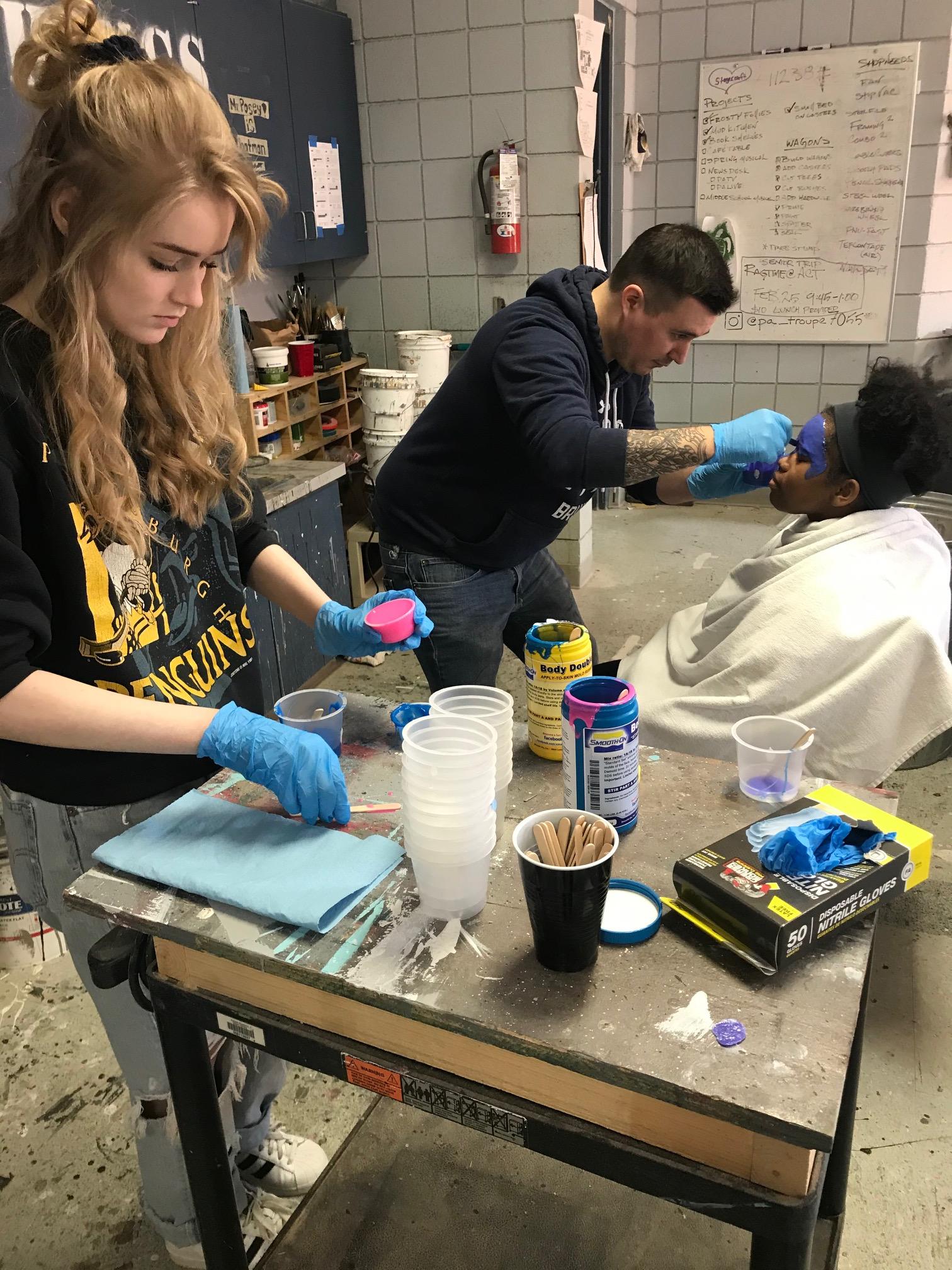 Can you tell me about the art direction of a play and how students contribute?

Mrs. Posey: I direct our fall play, Frosty Follies short play, and the spring musical. Many times, I will have a student interested in serving as Assistant Director on these productions. The Assistant Director is present at every rehearsal with me. I include them in my vision for the show and incorporate their ideas. They are typically assigned specific scenes, choreography, or moments in which they direct and provide notes to the actors. The middle school musical is directed by our Scene Study senior theatre students, under my guidance. Scene Study is a studio style class in which skills they've learned in Acting and Directing classes culminate in their vision and creation of the middle school musical. They take the reigns in play selection, auditions, direction, music direction, choreography, design, stage management, and production.
Mr. Posey: Sheridan and I set up production meetings with our lighting and sound designers to discuss the vision of the play. I usually have set renderings when the meetings begin. Sheridan and I discuss costumes and props and share the duties of creating and accumulating those items. During the building of the set, I will often offer opportunities for students to make design suggestions that are aligned with the overall vision. The Middle School Musical is all student-produced.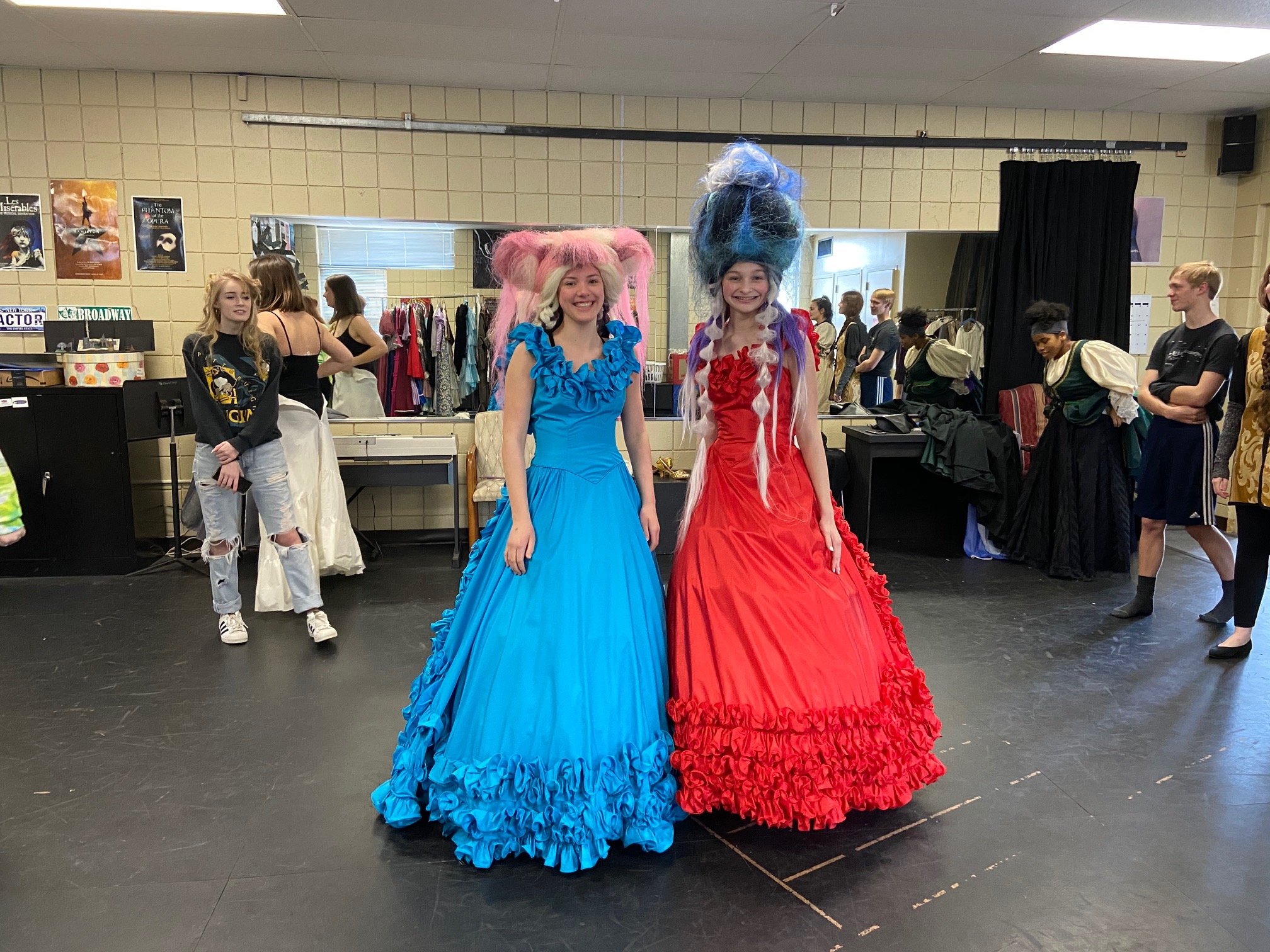 Can you tell me more about how each group works together?
Mrs. Posey: The cast and crew work together under the guidance of the director in rehearsal. However, once the show opens, I am no longer calling the shots from the house or checking on crew backstage. They work together in rehearsal towards the common goal of making the show a success, because once the show opens, it is in their hands! My stage manager, who is also present at every rehearsal, assigns crew members to specific duties backstage and calls light and sound cues from the booth in production. Everyone must be focused, connected, and working together for the show to succeed.


How does working on a theatre production help students beyond PA?
Mrs. Posey: Being involved in a production and studying theatre builds social skills and teaches empathy, which results in a more compassionate, socially aware adult. Working on a production requires teamwork and creates connections that last a lifetime. In addition to learning life skills, we prepare our students for the rigor of collegiate and professional productions. Mr. Posey and I both have years of professional theatre experience and we strive for the same level of professionalism in our school productions. We want our students to feel confident walking into any audition or production outside of our school and know that they are prepared.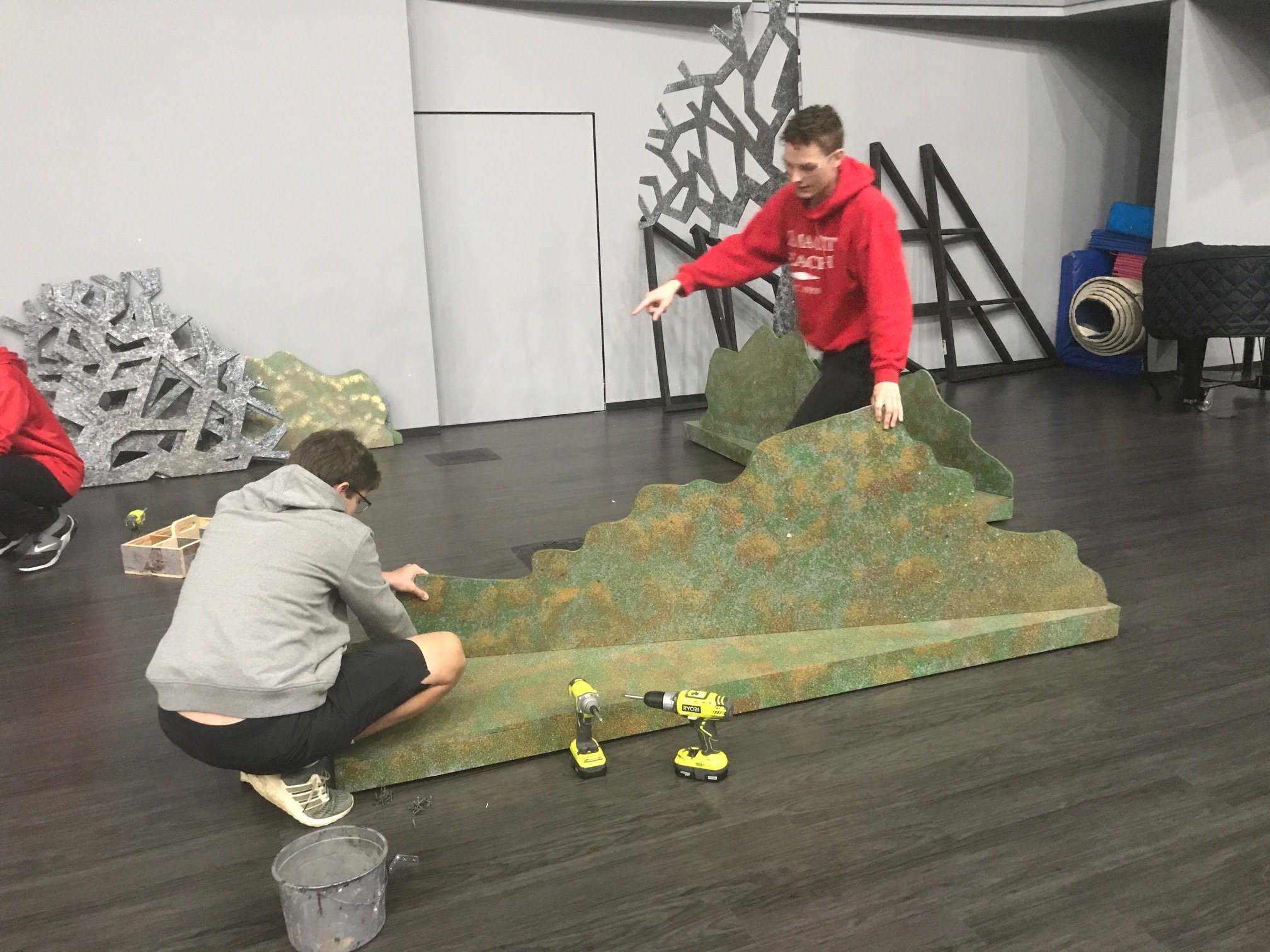 Are there any state or national competitions that you can enter for a theatre production?
Mrs. Posey: The PA Theatre department is a proud member of the Educational Theatre Association. Through EdTA, we have an active upper school theatre troupe that competes at the Arkansas Thespian Festival. Each February, we attend the festival and compete in solo, duet, group acting and group musical theatre, as well as solo design competition areas, such as scenic, costume, and makeup design. We have received all superior and excellent ratings at the Thespian festival and several of our competition pieces have been awarded the highest honor at the state level, Best in Show.

Is there anything else you would like our readers to understand about the work that goes behind each play?
Mrs. Posey: We have a wonderful time with every production! The cast and crew form a bond that feels like family. You always remember your show family. We love providing our students the opportunity to grow and learn through this amazing art form!
Mr. Posey: The skills my students learn are easily applied outside the world of theatre. I have students tell me all the time about things that are able to do because of what they have learned in Stagecraft. They help family members, neighbors, clubs, and themselves with the confidence of being able to use their hands and the proper tools.
---

Thank you to our theatre and stagecraft students and Mr. and Mrs. Posey for your tremendous dedication and creativity each semester.
Without further ado, here is our Behind the Scenes video for Into the Woods, created by Mr. Posey.