We sat down with Pulaski Academy alum and current Razorback Linebacker Hayden Henry for Episode 16 of Innovation in Education: The PA Podcast to hear more about Hayden's time on the field and in the classroom at PA, success as a Razorback linebacker, and what he has planned for the future.
Welcome to Innovation in Education. This is the PA Podcast where we share stories of how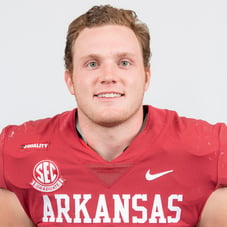 Pulaski Academy is inspiring students to explore, create, contribute and achieve. My name is Matt and I'm your host for this episode. This is episode 16, June 23rd, 2021 and I'm very excited about my guest, Hayden Henry. Hayden is a Senior Linebacker for the Razorbacks and a 2017 Pulaski Academy Graduate.
He was the Class 5A Defensive Player of the Year. In his senior year, he helped PA to a 13-1 record and won three state championships as a Bruin. He is in his last year as a linebacker for the Razorbacks and made the 2018 and 2020 SEC All-Academic Honor Roll.
MATT: Hayden, how are you, man? Glad to have you on the show.
HAYDEN: Doing good! Matt, thanks for having me. I'm happy to be here and I'm excited to chat with you a little bit and hear what's going on.
MATT: You're obviously in the summertime and your last year as a Razorback. What is the summer like for you? Is it laid-back or is an intense? What are you up to?
On Pulaski Academy preparing him for college:
"I felt like I was so prepared to be there. Almost I would say, a little over-prepared. So much that my first year or two of college were not extremely challenging for me. When I started getting into my tougher courses later in college, obviously, I was challenged. But, I remember being in college in my first few classes being like, man, I'm going to kill this, you know, I'm good. I'm so happy to have attended PA. PA molded me into a great student!"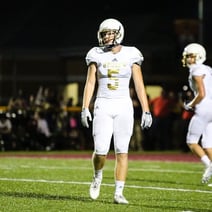 HAYDEN: It's a little bit of both and I've got to be honest - It's probably my favorite time of the year. I love the summers up here because students leave, the town is a little quieter. There's not as much traffic, there's not as much movement, but you know, I basically just have practice a few days a week and I also have an internship right now. So I'm a little busy with that. But for the most part, you know, doing good.
MATT: Are most of the guys, the players up there are there working out in the summer, or are some at home? And what's the kind of the environment, like with the players?
HAYDEN: The whole team is here. We report every year right after Memorial Day weekend. So we've been getting after it for about a month now, and will stay after for the next month and then will begin the season in August.
MATT: What about the freshman? Are they in now as well?
HAYDEN: The freshmen are here. Yep.
MATT: Do you remember what that was like for you to come in, as a freshman? What was that like? I mean, obviously, you had a brother that was there. So you had a little bit of a feel for it, but was it still kind of a little bit overwhelming? What was the feel like?
HAYDEN: Extremely overwhelming and you know the jump from high school to college can be a little daunting. And I just remember, you know, you're walking around the locker room. You're seeing how big these guys are. And I just remember being like, man, what did I get into here? These guys are massive.
MATT: It seems like fans from the outside, you always hear, obviously, the jump from one level to the next - from high school to college, college to pros - I mean the game is so different. The guys are bigger, they're stronger, and they're faster. Did it take a while to adjust to that?
On Razorback Head Football Coach Sam Pittman:
"I think one of the marks of a great leader is just being able to connect with individuals of different backgrounds. Without a doubt, Coach Pittman does that better than a lot of people that I've met. He just has a way of connecting with you - that you know he cares about you and your family, and he just makes people want to play hard for him."
HAYDEN: It took a while and it's just something you just gotta do over and over again, you know. Repetitive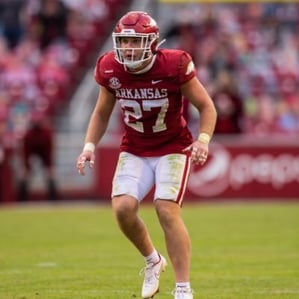 things and once I was there long enough, you know, I don't know if it was a month or a few months but I remember kind of it started to click for me after a little while and so you know the game slowed down for me like it did in high school. I do remember at the beginning, man, I was like holy smokes, this is fast. These guys are so much bigger than the guys that I played in high school and they're just faster. And it was crazy, but you know the game slows down after a while.
MATT: You're in your senior year, your final year and I know we were talking earlier, you've been through three head coaches since you've been there. Obviously last year, kind of a bizarre with covid. But a lot of, I think, really positive things and a lot of momentum. Lot of things to be excited about with Coach Pittman, what is it about Coach Pittman? You know, sometimes you hear coaches are, you know, they're a player's coach or they're a great motivator or it's just buying into the vision, but what is it about him that guys play for and sell out for?
HAYDEN: Man, I think the mark of, or one of the marks of a great leader is just being able to connect with individuals of all kinds, of different backgrounds. And I can say, without a doubt, that Coach Pittman does that better than a lot of people that I've met, and he just has a way of connecting with you and talking to you and, you know that he cares about you and your family and he just makes people want to play hard for him.
You can hear our entire conversation with Hayden at www.papodcast.net. You'll find this episode and all of our Innovation in Education episodes on iTunes and Spotify.
Make sure to catch the Razorbacks this season. You can find their 2021-2022 schedule HERE.
To learn more about Pulaski Academy, visit the PA Virtual Admissions Center at www.thepavac.com.