by Noel Brewster
Over the course of the 2018-19 school year, Lower School teachers are working collaboratively with professors from UALR. Teachers are benefiting from continued professional development in literacy content areas of language development, reading, and writing. During August teacher in-service work days, teachers received an instructional workshop on writing and follow up workshops on language and reading as they integrate with writing.
UALR professor Carla Soffos and doctoral student Wendy Satterfield have been on campus for teacher planning sessions to help develop lessons and observe classes.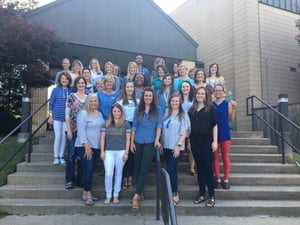 They present best practice strategies to teachers and offer expertise for them in modeling lessons and coaching their own lesson structure. UALR benefits from having a cooperative school where teachers are providing professors opportunities to hone coaching skills and see authentic teaching in practice. The
y are working with the second grade, fourth grade, and sixth grade teachers to develop three model classrooms that demonstrate best practice teaching for others to observe and grow from.
PA Lower School teacher
s are excited about the opportunity for continued educational opportunities that fu
rth
er their teaching crafts.
It is a win-win opportunity for both schools and for PA to live out its vision to be the leader in innovative education.
Collaborative partnerships are key to this pursuit with our faculty, students and our community.