The past school year was one for the record books regarding the achievements and accomplishments of the Social Science Department at Pulaski Academy. The department produces acclaimed writers and researchers who compete with the best students in the nation. Student achievements have indeed been record-setting!

Three students were acknowledged as National Finalists in the John F. Kennedy "Profiles in Courage" Essay Contest. The recognized students included:
Mohammed Abuelem, "Charlie Dent: Fighting to Protect Immigrants from Trump's Travel Ban"
Ahad Nadeem, "Chris Piazza: The Rogue Judge"
Ayesha Yousaf, "Ryan Williams: The Fight Against Opioids"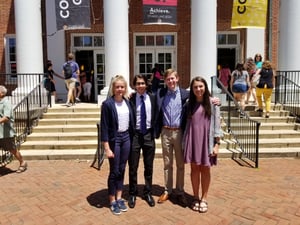 In the Foreign Service Essay Contest, three recent graduates from the Class of 2018 were recognized as national finalists and placed among the top twenty in the United States. The three PA students were Caroline Bellamy, Emma Chambers, and Tatum Smith.

Pulaski Academy also had four entries qualify for the national finals in National History Day. Seniors Mohammed Abuelem and Genrietta Churbanova were national finalists in the documentary category. Sophomores Whitney Watters and Harrison Rainey qualified in the Individual Project Exhibit component of the competition. This is the 24th consecutive year that PA has advanced students to the national finals.

During the summer of 2018, a record eight Pulaski Academy seniors submitted research papers to the Concord Review for publication consideration. The paper lengths ranged from 20-30 pages. List of students include:

Mohammed Abuelem, "Palestinian Nationalism: The Emergence of a Distinct Political Identity in the Middle East"
Tyler Angtuaco, "The People's Power Movement and the EDSA Revolution of 1986"
Laurel Black, "An Invisible Enemy: The Psychological Motives Behind My Lai"
Genrietta Churbanova, "The Shadow Economy of the Soviet Union"
Om Desai, "The Anti Apartheid Movement"
Nistha Lohani, "Tibet: The Struggle for Survival"
Ahad Nadeem, "The Savings and Loan Crisis: Causes and Implications"
Ayesha Yousaf, "The Forgotten Genocide: The September 30 Movement and the Indonesian Genocide of 1965-1966"

The Social Science Department promotes academic excellence across the board and prepares students for the challenges they will encounter in college and beyond. Pulaski Academy students are nationally recognized and compete at the highest level.