For junior Ozan Paydak, his passion for science and medicine feels like something he was born to do. Ozan's interest in medicine peaked at the age of four when his father, Dr. Hakan Paydak, began bringing his young son to the hospital with him. His interest in science research was sparked after observing his father present at the World Congress on Cardiology in July of 2016.
Ozan was approached by Dr. Asif Sewani of UAMS to become involved in a research project which resulted in the two co-authoring a paper titled "Stapling for the Treatment of Wound Dehiscence of Cardiac Implantable Devices," which was subsequently published in the Archives of The Turkish Society of Cardiology last May. Prior to becoming a published researcher, Ozan presented his findings at the World Congress on Cardiology in Vancouver, Canada in the summer of 2017. At this international conference, Ozan was the youngest researcher to present!
The summer of 2017 also saw Ozan attending a National Youth Leadership Forum on Medicine at the University of Chicago and representing Pulaski Academy at the Congress of Future Medical Leaders at the University of Massachusetts. Ozan topped off that summer by spending three weeks at Johns Hopkins University Center for Talented Youth Program studying Biotechnology. The following summer Ozan volunteered at an ecological farm in rural Turkey for two weeks where he helped farm, grow, and distribute food to those in need in the area.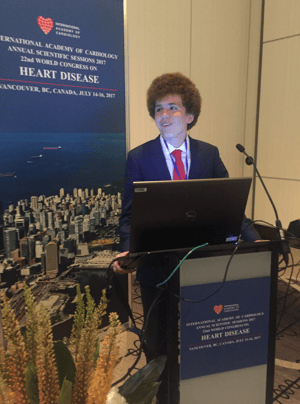 After observing his oral presentation in Vancouver, Dr. Jay Mehta, Stebbins Chair of Cardiology and Distinguished Professor of Medicine at UAMS, invited Ozan to participate in his research project. He shared his data with Ozan on a project titled, "The Effect of PCSK9 on Ox-LDL Uptake and Atherogenesis," which Ozan successfully presented at the Junior Academy of Sciences at the University of Central Arkansas. This project earned him multiple awards in the category of Medicine and Health during the 2018 Arkansas Science and Engineering Fair.
In addition to his achievements outside of the school day, Ozan maintains a high GPA and a rigorous schedule of classes. His extracurriculars include participating in the Medical Club, Amnesty International, Spanish Club, Culinary Club, Debate Club, Quiz Bowl, and serving as secretary of Model United Nations. He is an active member of PA's tennis and soccer teams, having been named All Conference in soccer last year. With Henry David Thoreau's words guiding his focus, Ozan's dream is to study biology at a prestigious college that would pave the way to a top medical school in the future. "If one advances confidently in the direction of his dreams, and endeavors the life which he has imagined, he will meet with success unexpectedly in common hours."